by CARRON TAYLOR

On Saturday 15th February 2003, an Anti-War Demonstration will be taking place in London against the impending war in the Gulf. It will be a national outcry against Prime Minister Blair's total disregard for public opinion, Parliamentary debate and his alliance with George W Bush in pursuing the warpath above all other alternatives in dealing with Saddam Hussein.

Amongst those demonstrating will be Sussex University students, led by Sussex University Coalition Against the War (SUCAW) Chair David Mooney, who sees the 15th February protest as an opportunity "to get on your feet and put your opinions into action". Opinions which were strongly expressed at this years USSU AGM. Each year the Union supports a local, national and international cause. This year's support for an international campaign went to the 'International Campaign Against Imperialism in the Middle East'. This led to a motion 'against attacking Iraq and the imperialist aggression of the US and Britain' being unanimously passed by the 650- plus students who were present.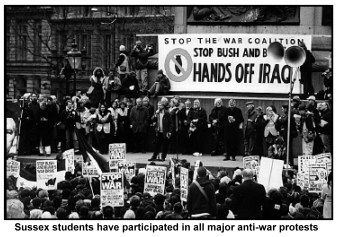 An important aspect of the motion stated that 'this Union believes that the current anti-war movement in this country and all around the world should be supported in order to increasingly express the popular discontent against state violence and call for peace amongst nations. This Union resolves to show full solidarity with and to give full support to local, national and international anti-war campaigns, to highlight the catastrophic catastrophic consequences of continued military aggression by the US, Britain and its allies.' As a result, a large number of Sussex students will be demonstrating this February.

In the run-up to the demonstration, look out for posters around campus with information about the 15th, and a pre anti-war demo speakermeeting, taking place on Friday 14th February at 2pm, in the debating chamber, Falmer House, with speakers from across Europe discussing the current international political crisis.

If you are interested in attending the Anti-War Demonstration on Saturday 15th February 2003, you can purchase a return bus ticket to London, priced at four pounds from USSU's reception in Falmer House between 10am and 4pm daily before the day of the protest. The buses will depart on the day from Bramber House at 8:30am. It should be noted that the tickets are selling furiously, so if there are any problems in getting hold of one the next best point of contact is 'Sussex Action for Peace' at www.safp.org.uk. This group will also be travelling up to London on the 15th, and will be leaving from St Peter's Church at 8:30am. Check their website for further details. Failing all this catch a coach up from the bus station. National Express offer cheap dayreturns. Alternatively, catch a train. Just get there if you can and exert your freedom to protest, for those without a voice.