by ED JONES

Ahead of next month's World Cup, England would do well to take some inspiration from their blind counterparts who recently returned from the second Blind Cricket World Cup. England's squad of 17 flew to Chennai in November with high hopes for the six-nation tournament.

As featured last term in the badger, Andy Dalby-Walsh, a student at Sussex, was present in the side. The tournament was a success for the Social Policy student, who opened the bowling in every match.

England were soundly thrashed in the opening game against a rampant South Africa who were intent on retaining the title they won in Delhi four years previously. England were labelled 'hapless' after this performance, and parallels were drawn with Nasser Hussain's struggling side.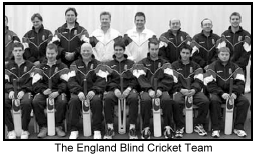 The second game was against hosts India in front of a noisy crowd anticipating an easy home win. India reached the large total of 319-5 from their forty overs. Enter Nathan Foy, a B1 (totally blind) player, in only his second game for England. Foy proceeded to destroy the Indian attack, hitting 152 not out from a mere 131 balls. This was the highest score recorded by a totally blind player. Foy's innings steered England to victory with nearly four overs to spare. A 'hapless' team this certainly wasn't.

After rain forced the abandonment of the match against Australia, Dalby- Walsh and co. were up against Pakistan. England's early position looked perilous as they lost wickets cheaply. But as Tim Guttridge strolled out to join Foy at the crease, the scene was set for the partnership of the World Cup.

Together they put on a scintillating stand of 248 from only 21 overs. Guttridge played his part by getting a well-earned half century. England closed on 432-5 - the highest score ever made in World Cup cricket. Pakistan finished on 373-7. The victory put England on top of the qualifying group and sealed their place in the semi-finals, where they met Pakistan, who reached the huge score of 393-8. But given England's performance in the last match between the sides and Foy's prolific form, this was not beyond our reach. But it was not to be, England being bowled out for just 282. Pakistan went on to victory over South Africa in the final.

"The tournament went well both for England and myself," said Dalby- Walsh, before revealing that "the Australians did, however, brag a bit about the Ashes."

As evidence of England's success in the World Cup, Guttridge was named B1 player of the tournament, while Foy was given the accolade of overall player of the tournament. The England team now moves on to Barbados in March, to help the West Indies develop blind cricket structures and coaching.