by BEN MOOREHEAD

Apparently Farnborough Town, the Nationwide Conference side, were at home to Arsenal in the FA Cup tie played last weekend. In which case Farnborough recorded the highest attendance - 35,108 - of any Conferance side in the history of football.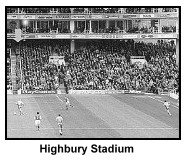 Everything about the game seemed to suggest Farnborough were at home. Arsenal wore their blue away kit. If you looked up the result in the papers the next day it read: Farnborough 1 Arsenal 5. And yet the match was played at Highbury.

It seems it was all a ridiculous plot by the FA to convince the footballing world that Farnborough were indeed at home. I hope you weren't fooled.

The draw for the fourth round of the cup determined that Farnborough would play at home against the Double champions. But as has been the custom of recent years, the tie was switched to Highbury for reasons of safety and money.

For a poor conference side like Farnborough, switching the tie would reap enormous fiscal gains. The safety issue seems more to be a cover for this.

But what about the magic of the FA Cup? One can sympathise with Farnborough's motives for moving the tie, but it is the vision of a non-league side playing a Premiership hotshot on a crusty, tiny little ground which so encompasses the special nature of our competition. Who knows what might have happened at the Aimita Stadium?

Matches must be played as the draw dictates. Only then can the FA Cup hold on to the title of being the world's greatest domestic competition.