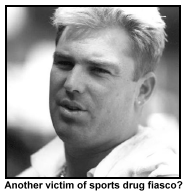 by BEN MOOREHEAD

It wouldn't be a proper sporting tournament without a drug scandal. So, just in time, it emerged on Tuesday morning that Shane Warne, Australia's high profile leg spinner, had withdrawn from the squad after failing a drugs test conducted by the ACB (Australian Cricket Board).

Warne had traces of diuretic in his test, an illegal drug in sport. The drug is known to be present in a number weight-loss diet schemes. Warne has flown back to Australia to complete further tests.

The scandal adds fuel to the heavily debated issue of drugs in sport. While many sports have been exposed as drug-affected, there has been recent trend to ban sportsmen and women for minimal (and often unintentional) crimes.

Chief executive of the ACB James Sutherland said that Warne "believes the failed test is because of a flu reduction medication he took in Sydney last month."

It already seems clear that Warne another victim of over-sensitivity doping in sport.